Thank you for your interest in advertising on the Displaced African
Who Should Advertise on the Displaced African?
If you are a product or service provider targeting African people, within the African continent or in the diaspora, then the Displaced African is right for you.
The Displaced African is one of the largest and fastest growing blogs in the entire African Internet world . It serves Africans in numerous countries worldwide including:
1) United States of America and Canada
2) Australia
3) Kenya
4) Nigeria
5) South Africa
6) Denmark
7) India
Website Statistics
These statistics were drawn from the statistical analysis tools, Google Analytics, Alexa and correspondence with Chitika

As of  October 2008
Visits:37,654
Page Views: 80,323
No of Articles and Pages: 230+
Pages indexed in Google: 894+
Weekly Readership: Approx. 1000 visits
Weekly Page Views: 2500+
Alexa Ranking: 142,854.
Page Rank: 4/10 for a site that is less than 1 year old.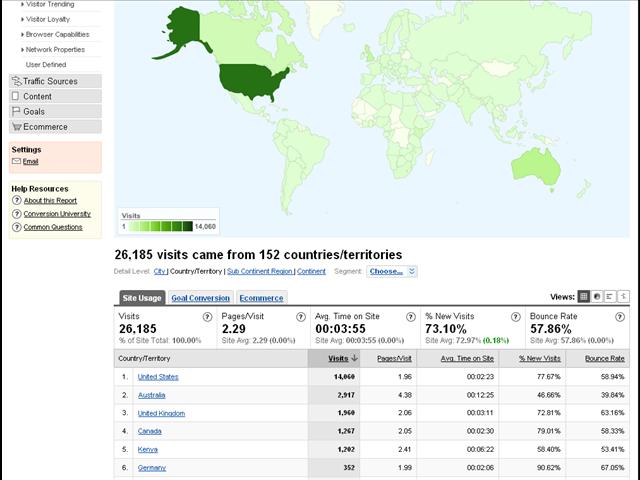 *Images taken from Google Analytics and Alexa.com on August 2008
Podcast Statistics
Total Podcast Listeners > 18,823
Weekly listeners > 700
Simple 3 Step Advertising Process
1) Select a package from among the 5 packages below.
2) Click on "Order Now" to order the package, lock in your campaign and make payment using Paypal.
3) Send an email to masmilele@thedisplacedafrican.com that includes either:
a) The text link you would like displayed on the site.
b) The 250 * 250 box, 120*600 tower, 468 *60 banners you would like displayed on the site.
c) Details about how I can access the product to be reviewed and any important information I should know prior to reviewing your website, good or service.
d) All of the above 3 elements should you chose the premium package.
And once you have done that, you can sit back and relax: I'll take it from there.

Payment
All prices below are in USD. Payment is via Paypal.com . You can use your Paypal balance, your credit card or your debit/savings bank account (in some countries). You do not need a Paypal account to make payment via credit card.
With the exception of package 1, all order links create a monthly subscription in Paypal to ensure you lock in your campaign.
You are in full control and can cancel your subscription at any time by contacting me or canceling your subscription manually at Paypal.com.
Package 1- Sponsored Review
Cost: $50 per review
What you get: One article written reviewing your site/blog, product or service on my blog. Minimum of 200 words.
Availability: 24 hours a day, 7 days a week. Must be approved by the author of the blog first.
Benefits: An article is posted on the site, focused entirely on your website or commodity. Not only do you get the traffic from the Displaced African readers, but you also get links from one of the fastest growing websites in the African web world. These "in content" links have a plethora of search engine optimization benefits and have a huge positive effect on your Google ranking.
To have a look at one of the site's product reviews please refer to the blog's review of Skype.
Please note: My reviews are not biased. I will write an article that will list pros and cons. If you're commodity has some issues, I will point them out in the review. I will also disclose on the review page that it is a sponsored review.
[ Order Now ]
Package 2 – The Text Link Package
Cost: $20 Per Month
What you get: 1 text link that is featured on every page of the website.
Availability: 10 positions currently available
Benefits: This package includes one text based link on every single page of this website (over 170 pages and increasing daily) including the main front page. Your link will be placed on the sidebar where it will be clearly visible to all readers of the site. Please refer to the video in Package 3 below to get clear graphic indications of where your text link will appear on the Displaced African sidebar.
All text links placed on the website have the "no follow" tag applied.
[ Order Now ]
Package 3 – the Banner Package
Cost: $50 per month
What you get: 1 banner in all banner positions (250 * 250 box + 120*600 tower + 468 *60 banner)
Availability: 4 positions currently available
Benefits: Your campaign is placed on all pages (over 170 and increasing daily) in 4 banner positions:
a) In between posts on the homepage
b) At the bottom of every single post
c) On two separate positions on the sidebar.
Please watch the brief video below for further graphic explanation of where your banners will be positioned:

Every visitor to the Displaced African is exposed to your campaign multiple times in multiple advertising formats. This package is ideal for branding and acquiring mind share in potential consumers and sending them to your website.
To avoid consumers getting "banner fatigue" as a result of repeated exposure to your banner in the same location, your banner campaign will be rotated together with 4 other banner campaigns to ensure potential consumers are always looking at your campaign from different vantage points.
You will need to supply your own 250*250, 120*60 and 468*60 banner. JPEG and GIF are accepted. Animation is also accepted as long as you are able to keep the file size low. You may change your banners at any time.
[ Order Now ]
Package 4 – the Premium Package
Cost – $250 3 month package.
What You Get: This is the premium package that includes all the benefits of the previous packages. You first get a sponsored review of your offering which is followed by a combination of a banner package and  text link package which appear on the site for 3 months at a discounted price .
Availability: 4 positions currently available. The sponsored review must be approved by the blog author.
Benefits: This premium package is the ultimate solution for branding, exposure, search engine optimization and traffic.
You get the credibility of being written about on the Displaced African, the search engine benefits of links within content, the traffic benefits of having links and banners on multiple areas of the site and brand enhancement when all these elements combine together. You only pay one lump sum and accrue all these benefits for the next 3 months.
[ Order Now ]
Package 5 – the Complete Package
Cost – $100 a month
What You Get – This package is the complete solution for anyone considering sponsorship with the Displaced African.
You get everything from the previous four packages – the text links, your banner in the multiple positions and a sponsored review. This package is distinct because it adds one final element that is sure to solidify your company's brand in the consumer's mind: your product is featured in all the Displaced African podcasts and video for one month.
The Displaced African (tDA) is the only blog in the entire African blogosphere that regularly produces videos for mass consumption. These videos are featured on all the major video sites including Youtube, Veoh, Viddler, Revvler, Daily Motion and Google Video.
tDA is also the only blog in the entire African blogosphere that releases a podcast on average once a week that is syndicated on the largest podcast directory on Earth, Itunes as well as other Africa related sites such as African Loft and Mtaa FM.
For the month that you subscribe, your product or service will be mentioned at the beginning and end of every video and every podcast produced by tDA.
Availability: 4 positions currently available. Sponsored reviews must be approved by the blog author.
Benefits: This package offers all the benefits that Package 4 has to offer but takes your brand name and exposure to the next level by featuring it in both video and audio format and distributing it around the world using the most popular video and podcast distribution systems on Earth.
[ Order Now ]
Contact the Displaced African
After you have selected a package, and made payment using Paypal, please send either:
i) Links to your banners (please host them on your server) and/or;
ii) Text link anchor text and URL(s) to link to and/or
iii) A short message of 3 sentences or less regarding your product that can be read at the begining and end of every podcast & video and/or;
iv) Details regarding what you want reviewed to masmilele@thedisplacedafrican.com
I take your sponsoring my site as an expression of support and the beginning of a wonderful business relationship. For that I say you a huge thank you.
Mwangi
PS: Any questions or enquiries regarding advertising  can be directed to masmilele@thedisplacedafrican.com.