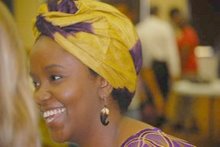 Make sure you listen to Part One of this interview with Julia Sanna first.
The Podcast
Ideas Discussed
1) The importance of "relationship role models" especially when one is younger
2) Digressions to discuss African American relationships
3) The African "man is boss" mentality in the 21st century: How do women respond to male authority today?
4) The educated African woman in the West vs traditional African values
5) The changing roles between men and women
6) The flexible role of authority in marriage
7) Why on Earth should people get married if the rules and roles are so arbitrary and negotiable?


The role of children in marriage
9) How to ensure that people have a great relationship after they have kids
10) Friends and mentors in relationships
Websites
2) Julia's blog