Part 6 of the 10 things I wish I knew before I left Africa
I think in this, the 21st century, when we as black people can see so much negative within our community and find so much going wrong about us, we sometimes forget that the last century was almost entirely defined by our great forefathers. If you look through lists of the greatest people of the last century, there are almost always great black people such as Rosa Parks, Martin Luther King, Frantz Fanon, Patrice Lumumba, Tom Mboya, Steve Biko, Nelson Mandela, Coretta Scott King and Malcolm X.
Whereas my admiration is equally divided amongst so many of the great black people of the last 20th century, very few people have captivated my heart in the manner that Steve Biko and Malcolm X had. This is because:
1) Their Sincere Love for their Race: When I first encountered the works of these great men, it was when I was going through a stage of being really ashamed of my race. When I read Biko and his ideas of the Black Consciousness Movement, I almost cried in jubilation, " I matter! I am special! This being black thing makes me special!" My exposure to Biko's work is at most very superficial but all I really needed was quotes such as the one below to become a major fan:
"Black Consciousness is an attitude of the mind and a way of life, the most positive call to emanate from the black world for a long time. Its essence is the realisation by the black man of the need to rally together with his brothers around the cause of their oppression – the blackness of their skin – and to operate as a group to rid themselves of the shackles that bind them to perpetual servitude."

"So as a prelude whites must be made to realise that they are only human, not superior. Same with Blacks. They must be made to realise that they are also human, not inferior."

"The most potent weapon in the hands of the oppressor is the mind of the oppressed."
Malcolm X was an entirely different case. In terms of Malcolm I was first exposed to his speeches (such as the Field Negroe/House Negroe speech) and by the time I watched the biopic Make it Plain, I had no doubt in my mind that though I may not have agreed with a lot of his ideas when he was in the Nation of Islam, deep in the core of his heart, he cared and existed to improve the lives of black people worldwide. That is why when he visited Africa in the middle of the century, he was given the name "Omowale", meaning "the son returns home" in the Yoruba language.
2) They Made Us Take Responsibility: Biko and Malcolm didn't just want to make us feel special and leave us feeling good, they wanted us to take responsibility for our psychology, our education, our communities and our lives. That's why Malcolm spoke about the African Americans separating from the rest of American society so that they could take absolute responsibility for how their communities were run.
Biko was also committed to freeing South Africa from the shackles of Apartheid, so much so that he was not only placed under house arrest but died at the hands of Apartheid's barbaric foot soldiers.
3) They Were Men of Substance: These men always carried themselves with dignity and respect and were men who you would never be ashamed to tell your kids to look up to. With all due respect to Dr. King, he strayed from home quite a few times, and it amazes me that Malcolm, with his criminal background,never did the same. Educated, intelligent, classy brothers who had compassion in their heart and carried themselves with courage and conviction. Yup!
4) They Had COURAGE: I intend to write about this in future. In my opinion, Africa does not lack intellect or skill or even resources. One of the main thing that Africa lacks in my humble opinion is commitment and courage. Malcolm and Steve managed to effect major change over their societies at a time when freedom for black people was a myth told to children. They were both assassinated. But this wasn't before the death threats and attempts on their lives while living in a society where police brutality was a way of life. I love the fact that courage such as theirs, especially in a day like today when we are much more free and doing much less with it, will forever remain in the history books to remind us that some people did it much tougher than we will ever have to.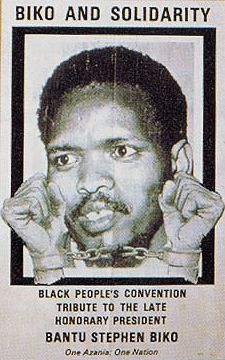 5) They Recorded their Ideas: If the great African thinkers of the 20th century never recorded their ideas we would never have had exposure to Black consciousness movement or Afrocentric thinking or Pan-African ideas or dives into the intellects of Garvey, Frantz Fannon, Kwame Nkrumah and Julius Nyerere. Can you imagine how much hopeless life would be for a lot of Africans if this were so.
6) They Worked Together Across National Boundaries: A Pan-African state seemed like a very probable idea in the middle of the century. This is because the Bikos, the Malcolms, the Dr. Kings, the Nkrumah's and the Nyerere's had all recognized our shared struggle as people of colour worldwide and agreed that it only made sense for us to come up with a solution together. Though I don't think the possibility of a Pan-African state or Pan-African identity is dead, these guys looked like they were about to make it happen.
7) They Gave Me Hope: Ultimately these guys gave a very lost teen some hope and helped restore some of the dignity that he had lost. They also excited me because through them I got the idea ingrained deeper into my head that one man's actions can actually make a difference.
Please check out some of the work by some of these seminal thinkers and have that fire lit under your butt so you can go out there and make this world magnificent.
Be blessed and bless others,
Mwangi X
PS: I would love to know people's thoughts on this email I received regarding Biofuels and food security. So leave a comment or get in touch with me and let me know your thoughts.
Malcolm X - House Negroes and Field Negroes:
Play Now
|
Play in Popup
|
Download
Steve Biko interview:
Play Now
|
Play in Popup
|
Download
Malcolm X on Black Nationalism:
Play Now
|
Play in Popup
|
Download
Make it Plain (Part one) BEST DOCUMENTARY EVER ON MALCOLM X - FIND THE REST OF IT ON YOUTUBE:
Play Now
|
Play in Popup
|
Download
Life and Death of Steve Biko (Part one):
Play Now
|
Play in Popup
|
Download